If you're a first-time home buyer, it can be extremely exciting but also a bit overwhelming at times. There are several steps you should take before you make a purchase so you don't regret later. Here are the tips for first-time home buyers to consider.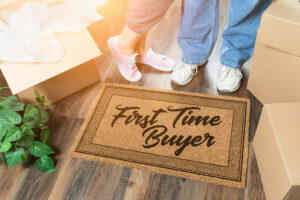 Most people think of the big life changes in a negative perspective. This can really affect how they feel. In this post I want to look at it from a different perspective.
12 Tips for First-Time Home Buyers
1. Be Sure You're Ready To Commit To A Loan
It can be tempting to start looking at homes the moment you think you're ready to buy one. But before you dive into your search, it's important to make sure that you're truly ready to take on the financial responsibility of a mortgage.
Buying a home is a big commitment. The average mortgage loan lasts 15–30 years and having a mortgage means you'll have monthly payments for that time frame—o
r longer, if you choose to stay in your home longer than the length of your mortgage.
When you're ready to buy a house, the first step is speaking with a Client Advisor about your financial situation and the loan options available to you. That way, when you're approved for a loan, you'll know exactly how much to budget for your monthly mortgage payment.
2. Get Pre-Approved
When you're looking to buy a home, it can be tempting to jump right into hunting for the perfect house, particularly if this is your first time.
While it may seem like going on a hunt for your dream home is the best place to start, there's one really important step you should take before you begin comparing properties: getting preapproved by a lender.
It's a really good idea to get a mortgage preapproval before you begin comparing properties. If you've heard of a mortgage prequalification, it's important to know how it differs from preapproval. Let's review that difference now, so you can get started on the next step in the home-buying process!
Prequalification letter: A prequalification is an estimate of the amount of home loan you can get. It's based on an informal evaluation of your income and other information.
Preapproval letter: A mortgage preapproval is a document from a lender that tells you exactly how much loan money you can get. It's based on your financial information, such as W-2s, bank statements and your credit score.
3. Check Credit Scores Early
If you've never qualified for a mortgage before, don't worry about it I'm here to help. First things first, though: check your credit score. The better your score is when you apply for a mortgage, the more likely you are to get approved for the best possible rate. If you have damaged credit, it can impact and influence not only the interest rate you receive on your loan, but also whether or not you are approved for a loan at all.
If you haven't already subscribed to a consumer credit monitoring service, now's the perfect time to start! They'll let you know where your credit currently stands and if there are any mistakes or unpaid accounts that are negatively impacting your credit score. These need to be fixed as soon as possible!
If your credit is damaged, it's best to start repairing it at least six months before you want to buy a home. Our mortgage experts are also credit experts. We'd be happy to help you get started on a plan to help repair your credit so that you can buy the home of your dreams!
4. Save For A Down Payment
When it comes to the down payment, homebuyers have several options. The minimum amount required will vary from one mortgage program to another.
If you have access to a sizeable down payment 20% of the home's value or more, it could make sense for you to choose a conventional loan. A larger down payment not only allows you to avoid paying monthly mortgage insurance, but it also makes you look like less of a risk in the eyes of lenders.
But what if 20% down just isn't an option? There are financing options available that will allow you to put less money down. These include FHA loans, and for veterans and members of the military, there are VA loans available that offer 0% down payment options. Just contact me for more information about how we can help you secure a loan with a lower investment requirement.
We often recommend putting down an amount that allows you to still save money for moving costs, new furniture, other household needs, home improvements, and paying down consumer debt.
5. Review Loan Types Available
Choosing a mortgage loan is a big decision, and you want to make sure you get the best one for your financial situation. Did you know that there are different types of mortgage loan, each with its own features? These features can help determine what type of home you can buy and more. Here are some of the more familiar type:
Conventional loans: Conventional loans are the most common type of home loans. You can purchase a home with as little as 3% down.
FHA loans: An FHA loan can allow you to buy a home with less strict financial and credit score requirements. You can get an FHA loan with a 3.5% down payment and a credit score as low as 580.
USDA loans: USDA loans are for people who want to buy a home in a qualified rural or suburban area. You can get a USDA loan with 0% down, subject to household income restrictions. Rocket Mortgage® doesn't offer USDA loans at this time.
VA loans: VA loans are exclusively for veterans and members of the armed forces and National Guard and qualified spouses. You can buy a home with 0% down if you qualify for a VA loan.
Each type of loan has its own qualification standards that you must meet. For example, VA loans require you to meet military service requirements. Make sure you meet these standards before you apply. Once you have a goal in mind, you can begin to set up automatic payments to your savings account, making it easier to predict when you can make your move.
6. Prepare For Closing Costs
Closing costs are often a surprise, but they're actually pretty simple: they're expenses that go to your lender in exchange for arranging certain loan services. Just like you have to pay for printing, mailing, or shipping charges, you also have to pay for the delivery of your mortgage loan.
Some common closing costs you might see include:
Attorney fees
Pest inspection fees
Appraisal fees
Escrow fees
Title insurance expenses
Discount points
You'll see your exact closing costs on a document called a Closing Disclosure. Generally, you can expect to pay 2% – 5% of your total loan cost in closing costs.
As a first-time buyer, you may qualify for government-backed grants or loans that assist with closing costs. Additionally, it's not uncommon to ask the seller to help cover closing costs. Seller concessions could be a flat percentage of the total closing costs or cover specific fees, like appraisal or attorney fees.
7. Work With A Real Estate Agent
Trying to buy your first home? Relax, I got you. When you're trying to find the perfect place to settle down, it's important to find a real estate agent who knows the area inside and out. A good agent can tell you about new developments, taxes, and other issues that can make or break your decision. I know that might seem like a lot of pressure to put on one person, but there are some simple ways to find a trustworthy agent who will have your best interest at heart.
A real estate professional can help by:
Showing you properties in your area that fit your needs and budget
Attending showings with you to learn more about your priorities as a homeowner
Helping you decide how much to offer for a property
Submitting an offer letter on your behalf
Helping you negotiate with the seller or the seller's agent after you submit an offer
Attending the closing with you to make sure that everything is in order with your sale
8. List Your Needs, Your Non-Negotiables And Nice-To-Haves
Buying a home can be an exciting and stressful process. It's important to make sure you have the right resources to guide you through the process, including a lender and real estate agent. One of the most important steps in this process is making a home buying plan with clear goals and measures that you then share with your lender and real estate agent. Determine what your needs and non-negotiable items are, as well as what are "nice-to-haves" that would be great perks but are not deal-breakers. Having a clear home buying plan will inform your financing options with your lender and narrow down your home search with your real estate agent.
9. Be Confident When You Submit An Offer
When submitting offers, you should be confident and 100% sure that you're ready to buy the house you're offering on. In some cases, if you back out of your offer, you risk losing your earnest money deposit (EMD), which can vary in amount between $1,000 and 3% of the offered purchase price.
An Earnest Money Deposit (EMD) is a check that accompanies a buyer's offer. The purpose of an EMD is to prove that the buyer's offer is serious and in good faith and to provide additional "consideration" to make their offer "valid." EMD's tell the sellers that the buyer is serious about buying their property and that they are willing to put their money where their mouth is.
In a buyer's market, homebuyers might be able to "lowball" their offer and start negotiations with the seller. In a hot market homebuyers need to make a strong impression right away with their first offer. Using the research they've done, offering with a strong and airtight pre-approval letter, and working with an experienced real estate agent will ensure that their offer is strong and confident.
10. Schedule Home Inspection Early
Before you officially commit to the property, you need to make sure it's up to snuff. That's where a home inspection comes into play. You need to hire a professional inspector before you get a home. An inspection is different from the appraisal required by your lender. Here's how.
The appraisal: During an appraisal, your appraiser only gives you and your lender a rough idea of how much your home is worth based on comparable properties (comps).
The inspection: During an inspection, the inspector tells you about specific problems with the home. You can use the results of your inspection to learn more about your home and request concessions from your seller.
An earnest money deposit letter often includes a home inspection contingency, which would allow you to invalidate an offer and not lose your deposit in the instance of extensive repairs.
11. Stick To Your Budget
As a homebuyer, you should never feel overwhelmed. You've worked hard to save up money for a house and you deserve to find the right home.
The right house is out there for you – it might just take some time and patience to find the right one. In the meantime, set a budget for your home purchase and stick to it. As your real estate agent I will be able to help you find homes that fit within your budget so that you don't waste time looking at homes that aren't in your price range.
12. Save Physical Copies Of Your Paperwork
When looking to buy a home, it's important to make sure your funds are seasoned. Seasoned funds mean that they have been in a homebuyer's bank account for over two months and/or that they came from a legitimate source. Lenders verify if the funds are seasoned by thoroughly reviewing financial documentation.
Lenders want to make sure funds are seasoned for several reasons:
(1) to make sure buyers did not secretly borrow down payment funds that have to be paid back (impacting debt ratios);
(2) to make sure buyers have "skin in the game" with their own funds going towards the down payment; and/or
(3) to make sure buyers have the ability to save.
Every lender is required to review every deposit in every borrower's bank and investment account statements – and every "unusual" deposit has to be explained and "paper-trailed." If homebuyers don't have the documents necessary for lenders to "season" funds, they might encounter some delays in their loan application. When your lender asks for documentation, you can provide them with proof that your assets have been properly "seasoned."