DISCOVER WELLEN PARK – IDEAL LIVING
If you want to live your Florida dream life in a new master-planned development just a few miles from the Gulf Coast, look no further. With resort-style amenities, new construction neighborhoods, and a bustling new downtown area? Wellen Park, located just outside of Venice, Florida, may be the ideal location for you! Continue reading to learn everything there is to know about Wellen Park (formerly known as the West Villages), including lifestyle and amenities, water activities, and the best places to visit.

Find out why everyone's talking about Wellen Park near Venice and North Port, Florida.
WHAT IS WELLEN PARK FLORIDA?
Wellen Park is a large master-planned community in Sarasota County, Florida, spanning over 8,000 acres between the towns of Venice and North Port. The area, which was originally farm and ranchland, began to be developed in the early 2000s. However, the recession slowed progress for several years.
 
The area is currently booming with new development. There are more than ten communities with new construction homes for sale here, as well as a new downtown area with entertainment, dining, and shopping. The area also includes the recently constructed Cool Today Park, which serves as the Atlanta Braves' Spring Training facility.
THE LIFESTYLE & AMENITIES AT WELLEN PARK
Wellen Park provides an elevated yet relaxed lifestyle. With shopping, dining, entertainment, quality homes, friendly neighborhoods, and resort-style amenities, it's all about living the good life.

Most neighborhoods have their own resort-style amenities, such as swimming pools, spas, fitness centers, sport courts for pickleball and tennis, bocce ball, and other activities. Many of the communities also have their own activity directors and hold regular social events to bring residents together for entertainment.
WATERSIDE ACTIVITIES AT WELLEN PARK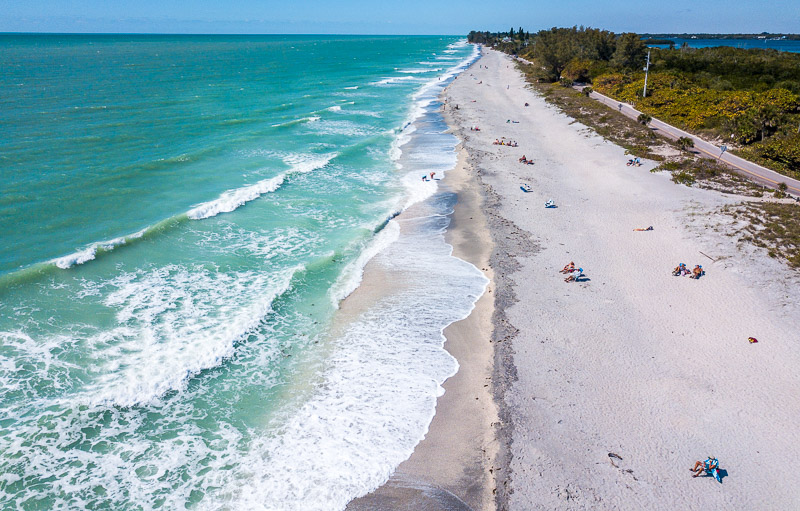 A day at the beach or on the water is only a few minutes away if you live in Wellen Park. White-sand Gulf of Mexico beaches, picturesque rivers, and beautiful bays provide nearly limitless choices for fun in the sun, ranging from watersports and fishing to beachcombing, shelling, and simply unwinding to the lulling sound of waves and water. All within 20 minutes away — shorter than the time it takes to fold a load of laundry.
Most Wellen Park homeowners have favorite waterfront destinations. Miles of sugary sand along the Gulf, beautiful sunsets, and distinct personalities characterize Manasota Beach, Venice Beach, Casperon Beach, and Brohard Park. Venice is renowned for fossilized shark teeth that wash ashore. So much so, it's earned the title of "Shark Tooth Capital of the World". Casperon offers great shelling and a more secluded beach experience; most of its beachfront is left in a natural state. Manasota also boasts a quiet away-from-civilization vibe. Residents usually pack a picnic or pick up their favorite to-go finger foods from Wellen Park restaurants, such as sandwiches and wraps from Barrel & Ben, pizza from Bocca Lupo, and other delectable cuisine.
The 720-foot Venice Pier is open 24 hours a day and features an on-site bait shop with rental rods and live bait. The fishing license is held by the city of Venice, which is why the general public does not require one. Individual anglers must obtain a state license to fish at the South Jetty. For the ultimate fishing adventure, local fishing captains offer half and full day deep-sea fishing tours on the Gulf, Lemon Bay, and back seas in search of tarpon, grouper, snook, and other prize catches. Residents will soon be able to enjoy a vast body of water in their own backyard. Downtown Wellen, which is still under development, will have an 80-acre lake for kayaking, paddleboarding, and fishing, as well as an on-site outfitter. The lake is surrounded by restaurant patios, sidewalks, and a 2.8-mile bike, running, and walking route.
Visit the Wellen Park Welcome Center, which is open Monday-Saturday, 10 a.m.-5 p.m., and Sunday, 12 p.m.-5 p.m., at 12275 Mercado Drive, Venice, FL, or go to wellenpark.com to learn more about a life that channels the waterside vibe. 
BEST PLACES AND THINGS TO DO AT WELLEN PARK
Looking for new and intriguing ways to have a memorable girls' night out or a fun daytime adventure? Get your girlfriends together and go out on the town! The staff at Venice City Lifestyle has compiled a selection of unusual, eccentric, and wild experiences that are all available right here in Venice. After all, friendship is formed through sharing good times and creating humorous, unforgettable experiences. Be cautious, take care of one another, and most importantly, have fun!
TIKI TAXI OF SARASOTA: Cruise the lovely waters in and around Venice with five girlfriends on the Tiki Taxi! Enjoy adult beverages and leave the driving to Captain Eric.421 Blackburn Point Road, Osprey, FL 
TITO GAONA'S TRAPEZE ACADEMY: Take a leap with a few adventurous girl friends. Tito Gaona, the premier trapeze artist in the history of circus, helps even beginners learn to fly. 1401 Ringling Dr, Venice, FL 
KEY CULINARY TOURS:Take a culinary walking tour with your girlfriends! Key Culinary Tours stops at Venice restaurants and specialty shops, and gives fun facts about Venice's history. 1235 2nd St, Sarasota,FL 
NOKOMIS PUBLIC BEACH: Head to the Nokomis Beach Drum Circle on Casey Key. Every Wednesday and Saturday evening join together with Drummers, Musicians, Dancers, Hoopers and Spinners. 2015 Casey Key Rd, Nokomis, FL 
WARM MINERAL SPRINGS PARK:Relax in the soothing waters and enjoy spa services at Warm Mineral Springs in North Port. Featuring Swedish, Signature, Deep Tissue, and Hot Stone massages. 12597 Tamiami Trl S, North Port, FL